Cnc Glass Cutting Machine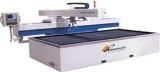 Business Type
Manufacturer, Exporter, Supplier
Type
Cnc Glass Cutting Machine
Color
Blue
Condition
New
Click to view more
Product Details
Brand Name
Zet Cut Laser Cut Beam Cut
Place Of Origin
Ahmedabad  
Usage
To cut almost any materials both metals and nonmetals
Packaging Details
Wooden Packing
We offer cnc glass cutting machine. Leading cnc waterjet cutting machine manufacturers in india our company is the pioneer indian company specializing and engaged in international business which deals in multifaceted activities to accomplish its goals of establishing an outstanding position in the global market place. Product name: waterjet cuttin machine basic introduction: water jet machine uses cold supersonic abrasive erosion to cut almost any materials both metals and nonmetals. The highly pressurized water stream is forced through a tiny area which carries abrasive garnet to erode away the material. Application of waterjet cutting machine are as follow : -metal cutting -ceramic cutting -stone cutting -glass cutting -metal profile art work -exotic & non traditional materials -automative, aerospace application -job & machine shop applications -insulation, laminates, leather, marble, plastics, quartz, rubber, silicone etc. Advantage of waterjet technology: cold cutting without thermal influences. -flexible processing of virtually all materials with consistent high quality. -material-saving production due to reduced cutting width and the nesting of several parts on a single sheet. -maximum degree of material utilization due to the smallest of part separation distances (partially free of burrs) and part-in-part production. -tension-free processed parts due to minimal cutting force. -environmentally friendly and clean production without poisonous gases. For more detail please contact us:
Desire Water Jet ( DWJ )
Model
DWJ1425-FB
DWJ1313-FB
DWJ1520-FA/B*
DWJ1525-FA/B*
DWJ2020-FB
DWJ2025-FB
DWJ2030-FB
DWJ2040-FB
DWJ2060-FBDWJ2060FB
DWJ2080-FB
x-axis
1400MM
1300MM
1500MM
1500MM
2000MM
2000MM
2000MM
2000MM
2000MM
2000MM
y-axis
2500MM
1300MM
2000MM
2500MM
2000MM
2500MM
3000MM
4000MM
6000MM
8000MM
z-axis
200MM
150MM
150MM
150MM
150MM
210MM
210MM
210MM
210MM
210MM
CNC CUTTING TABLE We are proud to introduce DWJ ( Desire Water Jet) series table to satisfy the desire of CNC profile cutting in every industry. Size of the table can be selected as per the length X width of the material Sheet.
Looking for "
Cnc Glass Cutting Machine

" ?
Piece(s)