Jetcut Series CNC Cutting Machine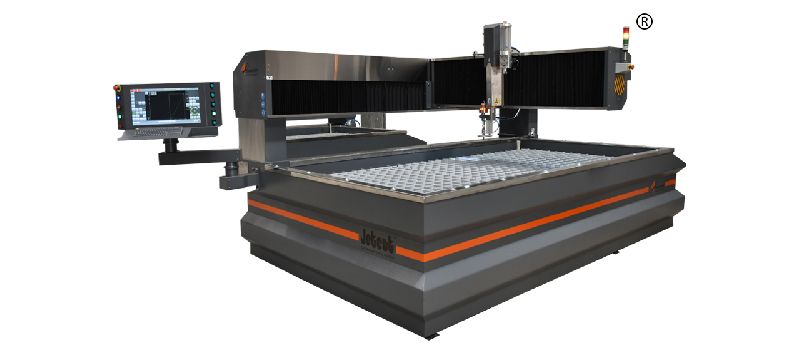 Business Type
Manufacturer, Exporter, Supplier
Travel of X - Axis
1610mm
Travel of Y - Axis
3110mm
Travel of Z - Axis
250mm (Can be customized)
Click to view more
Product Details
Rack & Pinion Make
Gambini / Apex or Equivalent
LM Guide Make
Rexroth (Germany) or Equivalent
NC System
Power Automation (Germany) or Equivalent
Software
Most 2D or Equivalent
Traverse Speed
Up to 30000mm/min.
Features :
AbraClean - abrasive removal pump system helps to clean the tank without shutting down the machine
Initial start height sensor reduces nozzle breakage & improves cut quality
Laser pointer - can be used for four different purposes
Automatic water level up-down system for submerged cutting
Abrasive Sensor - prevents damage to material if abrasive is empty
S.S. covers on X, Y & Z axis - to protect the precision motion components from harsh Waterjet environment
LED lights to illuminates the work area to provide increased visibility and reduce operator fatigue
Abrasive reuse kit
AccuFeed - Servo controlled abrasive metering system
SmartFeed - Automatic abrasive feeding system
Loading balls for easy handling of cutting sheets
IDE cutting head assembly for long life & faster cutting
Through pass on both X & Y axis helpful for cutting sheets larger then machine working area
Unique, Rigid & Integrated Structure - Minimize installation area.
No foundation required - Easy to relocate
System with world's best CNC controller
Inbuilt automatic lubricating system improves life of high precision components
Pure water cutting kit
Parts Life Monitor
Mesh in tank to protect small parts falling at the bottom of tank
No Toe Touch design for operator convenience
Remote trouble shooting - machine can be checked via internet
Waterjet Bricks - for cutting glass, brittle materials and small pieces
Sheet Support - easily holds thin sheet without clamping
Nozzle Cleaning Attachment - for cleaning blocked Nozzles
19 inch colour display
Wireless keyboard - can be used as remote pendant
Clamping kit to hold small jobs or thin sheets
Water gun for cleaning the material after cutting
Cut resistance tank bottom
Fully programmable servo driven Z axis
Swivel free high pressure plumbing to reduce maintains cost over the life of the machine
Lockable drawers for tools & spares makes them handy and safe
S.S. Protective cover on tank's top edges to prevent damage to tank while loading the material
Splash guards
Right angel to easily align the sheet before cutting
No need to realign the heavy plates. If the plate is not loaded on right angle, Machine can change the angle of cutting program accordingly
Precision ball screw on all X, Y & Z axis
Cantilever design makes work table accessible from all three sides
Optional manual tilting arrangement for welding application and chamfer cutting
Software capabilities for DUAL Pressure control for cutting brittle material.
Looking for "
Jetcut Series CNC Cutting Machine

" ?